As self confessed (or is that obsessed!) foodies – we decided that what would be better than to produce a completely independent guide to our favourite places to eat in Devon. We have taste-tested carveries, dinners, desserts, Sunday roasts, lunches, coffee and, of course, cake (all in the name of science of course!).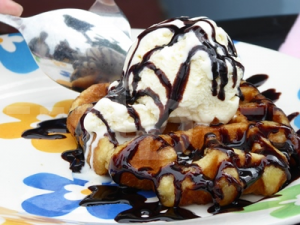 All the food reviews we have conducted consider equally the needs of diners with a 'normal' dietary requirement; as well as those who are coeliac and/or gluten sensitive. The reason for testing the gluten free offering is that I have coeliac disease, an auto-immune condition that can only be 'cured' by eating a completely gluten free diet for life. Generally this limits what I can eat, and where I can eat, safely. Interestingly, all the places we reviewed were pretty clued up – mainly because if they weren't we gave them a very wide berth!
Places to eat in Devon – so many places to see
In all cases we've added a brief description of the surrounding area or town. Devon is a stunning county and there are many amazing places to visit, but the primary focus for us is the food – because eating is what we like to do! In all cases the reviews are written from our own personal experience of the establishment and are completely independent. If we haven't liked the service, food or ambience we will tell you. We've tried to include useful information such as child or dog friendly, disabled access and the opening hours of the establishment. To see a list of the locations we have covered, either click on the map below or click on the link to see the where to eat in Devon.


If there is any other information you feel may be of use or relevance, please send us an email on enquiries@delicious-devon.com and we will try to include it.
Likewise if you also know of a place to eat in Devon and we haven't reviewed it yet, please don't hesitate to tell us and we will endeavour to try it out – we know – it's a tough job, but someone has to do it!
We hope you enjoy reading…..

Images and website Copyright Droppa & Droppa Limited 2016 © All rights reserved.