I'm a big fan of Fremington Quay Cafe, Fremington, (click here for its website) and judging by how busy it was last week, so is half of North Devon! Situated on the Tarka Trail between Bideford and Barnstaple, Fremington Quay is a must stop for locals and tourists alike. The views are stunning. There are circular wooded walks nearby, or alternatively a walk or cycle down the Tarka Trail and stopping for a spot of lunch or afternoon tea should definitely be on the agenda.
We took the kids for a treat one afternoon during the holidays on a particularly sunny day. It was too hot to walk the dog, so we can't even use that as justification for stuffing our faces there!
Charlotte and Paul have designed the cafe so that there is something for everyone. There is an ice-cream bar on the right as you go in where kids (and adults!) can choose from a variety of flavours.
They serve breakfasts until 11:00 and lunches & afternoon meals right up to four o'clock. We had already eaten lunch, so decided on tea and cake. There are lots of scrummy looking cakes in the display cabinets by the tills. They are very gluten free aware so there was a choice of three cakes/slices for me as well as scones. I had to try the coconut slice and also have a cream tea – all in the name of research! Hubby ordered the coffee and walnut cake.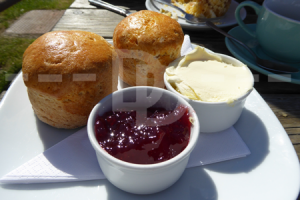 We took our food and tea outside. There is extensive seating, but it does get very busy on a good day that we were lucky to get a seat. The lovely waitress bought out two warm gluten free scones to go with our tea – we may have possibly just a little bit over ordered…..

The scones were lovely – a little bit doughy in texture, but still quite light. Hubby said his coffee and walnut cake was gorgeous – very light and moist. I didn't like the coconut slice particularly as it was just a bit too much 'coconutty' with both the base and the topping being coconut. It would have been better on just a pastry or a plain sponge base. The kids loved their huge scoops of ice cream.
All in all a great place to eat. If the weather is bad there is inside seating too, so always well worth a visit. There is a museum next door if you feel the need to justify your indulgence with a spot of education too!
Opening hours: Open daily: 09:00 – 16.00.
Gluten free friendly: Aware and accommodating – as well as gluten free cake they also do light lunches.
Child friendly: Children and babies are very welcome.
Disabled access: Access to the cafe is on a slope so suitable for wheelchairs.
Dog friendly: Dogs are welcome outside on leads.
Please follow and like us: