We had lovely food at The Pier House, Westward Ho!, North Devon. It's famed locally for its stunning views and is set in an amazing location overlooking the golden sands of Westward Ho! and the rugged rocks extending out into the Atlantic Ocean. Click here to view its website
It was a boiling hot day when we went for lunch and our appetites were unusually not that large. Mr D ordered The Moules, whilst I had Chicken and Chorizo skewers.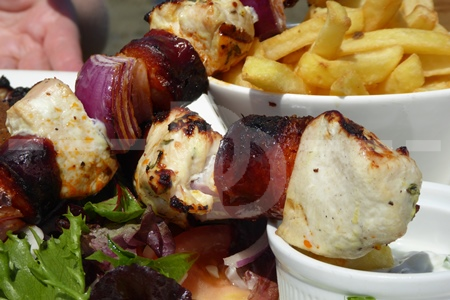 The food was excellent – well cooked and nicely presented. We would definitely recommend eating there.
For us coeliacs out there it is worth noting that The Pier House has undertaken allergen training with Droppa & Droppa Limited. In light of this the staff are very gluten aware, there is a separate menu and a dedicated fat fryer so even the fries are gluten free.
Opening hours: Every day from 09:00 – Midnight.
Gluten free friendly: A separate gluten free menu and a good knowledge of gluten free.
Child friendly: They have a children's menu and high chairs.
Disabled access: They have a lift to the first floor.
Dog friendly: Dogs are allowed on leads outside.
Please follow and like us: