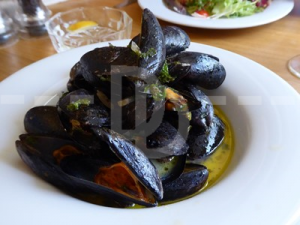 We had the honour of being invited to a wedding reception recently at The Poltimore Inn, North Molton. It is in a lovely setting with amazing views from the garden at the back over beautiful North Devon countryside. The buffet served at the wedding looked, and according to hubby, tasted amazing. Being the forever foodies that we are, we asked about the daily menus.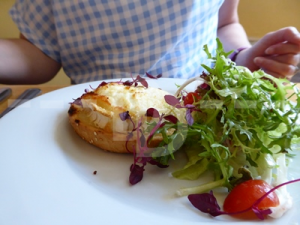 Fathers' Day was rapidly approaching and with our usual superb organisational skills (not!), we hadn't anything planned, so literally last minute we managed to squeeze in a booking for Sunday lunch. We were not disappointed at all. The service was excellent – very friendly and welcoming.
It's also very popular for its gins and runs a gin festival! I have to say, I am not fond of gin, but we were led through the different types and flavours by a very knowledgeable member of staff, so we thought we'd give it a go. It wasn't my taste at all, but on a warm summers' day, I can see why people drink it, because it is refreshing.
Starter at The Poltimore Inn, North Molton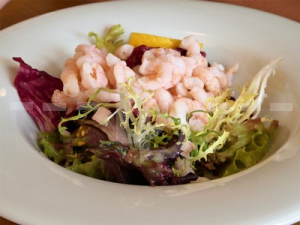 There was a lovely selection of starters. I ordered the goats cheese on a slice of gluten free bread and it was divine. Hubby ate the mussels, and our daughter ordered prawn cocktail without the sauce!
The starter of the day for its wow factor though, was the Pigs in Blankets. Our son thought this was amazing and it was a great starter for fussy teens!
Sunday roast at The Poltimore Inn, North Molton

We then moved on to the main course, which was a Sunday roast. I ordered the chicken and hubby ordered the beef. Both had very well cooked, succulent meat and a nice selection of fresh, seasonal vegetables to complement the meat.
My only criticism is that my gluten free Yorkshire puddings weren't very nice. They were quite dense, and I ended up leaving them. However, that was a minor blip. The rest of the food was very tasty.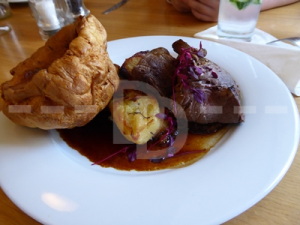 We were actually way too full to even contemplate dessert.
It is a lovely pub – very good service and the food was excellent. I would highly recommend it. Moreover, the walk down to the river and a paddle after the feed was so good!
Opening hours: 11:30am to 2:30pm and 5:30pm to 11pm on Monday to Thursday.
All day from 11:30 am to 11pm on Friday, Saturday and Sundays.
Gluten free friendly: A very good knowledge of gluten free.
Child friendly: They have a young person's menu and high chairs.
Disabled access: Access to the bar was okay and the toilets were on the same level.
Dog friendly: Well behaved dogs are allowed on leads throughout the pub.
Please follow and like us: