The pretty little village of Sampford Peverell is very close to junction 27 of the M5. Whilst mooching about and killing time in Wellington, we decided to take the short hop down the M5 to try out The Globe Inn.
When we arrived it was a sunny autumn day. The pub was very busy – I'm sure there were more people in the pub than lived in the Village! There were families and couples enjoying Sunday lunch and tables looked like they were at a premium – I was grateful that we had booked, but that is par for the course if firstly you're a coeliac and secondly the pub has a good reputation for food.
The pub itself has a massive outside area, with lots of parking, steps from the car park to the canal, cycle hire and a playground for kids. Upon arrival we were greeted by a really friendly barman – chatty and very welcoming. The place was teeming with upbeat and friendly staff – very impressed with the whole atmosphere. I ordered a local fruit cider and it was very nice too! https://www.lymebaywinery.co.uk/cider/annings-fruit-cider. Not as sweet as some other commercial fruit ciders and so a nice change.
So what to eat… we both decided to have a carvery meal. Usually this can be very hit or miss and, for a coeliac, a contamination nightmare. However, as soon as I mentioned I was a coeliac, the chef immediately instructed the servers to change all the utensils for clean ones. Firstly, apart from the fact that no-one batted an eye lid and I wasn't made to feel as if I was a pain (I do get the 'rolled eyes' treatment a lot!), this showed a good understanding of the risk of contamination for someone with coeliac disease. If people had used the tongs/spoons for gluten-containing food, and then I used the same tongs, I would be made ill.
Sunday Carvery at The Globe Inn, Sampford Peverell
The meat, and there was a choice of four!, was very decent quality and all the food was cooked exceptionally well. I chose the turkey and gammon, and although I couldn't have the stuffing or the sausage, there was enough choice with Dauphinoise potatoes, roasties, broccoli, carrots.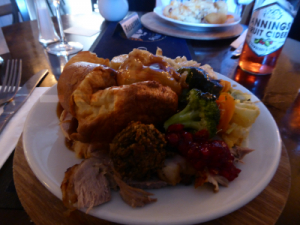 As you can see from hubby's plate, he obviously took full advantage of the carvery and had every meat, Yorkies, stuffing etc etc etc!!!
Dessert at The Globe Inn, Sampford Peverell
As always with a carvery, you stuff yourself so much that you physically cannot fit a pudding in, however, there was a gluten free dessert available so it would have been rude not to at least try it. It was a lemon meringue roulade served with Swedish Glacé dairy free ice cream. Personally I like Swedish Glacé more than normal ice cream, so I was very made up with that!
The roulade didn't taste home-made, although I think the other desserts were, but I'm totally okay with that. The fact that they had gone out of their way to get a gluten free dessert in, knowing I was coming, made the service even more special for me.
All in all a great place to eat. We were made to feel very welcome, the food was very well cooked and tasty and the service, well that was just amazing – exceptional really – so I would heartily recommend it.
Opening hours: Monday – Friday: 11am – 11pm, Saturday – Sunday: 10am – 12:00am.
Gluten free friendly: A very good knowledge of gluten free.
Child friendly: They have a children's menu and high chairs.
Disabled access: They have wide doorways and a disabled toilet.
Dog friendly: Dogs are allowed on leads inside.
Please follow and like us: