The Grampus Inn, Lee Bay, is situated in an Area of Natural Beauty on the North Devon Coastline. We first went to The Grampus a few years ago purely by chance. Friends were down on holiday in Ilfracombe and we wanted somewhere with good food where we could meet up and have a nice meal with our children. We were initially attracted to The Grampus Inn because it can cater very well for coeliacs. However, we found out that it has so much more to offer visitors.
We booked a table for a Friday night and when we arrived our son was bitterly disappointed to learn that the last Friday in the month is open mic night, and he'd left his guitar at home! Halfway through dinner we were asked by the organiser whether anyone would like to get up and do a song. As it happened my son had gone to spend a penny at that precise moment, so, to the horror of our friends, I put his name down. They obviously didn't know our son very well at that time!
Bless him, up he got, borrowed a guitar from the pub, and did an acoustic version of Bon Jovi's Dead or Alive. The audience loved him and at the tender age of 11 he was a big hit! He's moved on just a bit from those early days, but his love of performing and playing guitar hasn't diminished…watch out Eric Clapton. For the record, open mic night is now a regular feature every Friday night.
Anyway…back to the food…
We had such a good meal that night, that when we were talking about places to visit for Delicious Devon, we thought we would go back and try it for lunch. To say we were just as bowled over by the food would be an understatement!
Starter at The Grampus Inn, Lee Bay
As usual, in an effort to taste as much of the food as possible, we shared a starter. We ordered the blue cheese and walnut salad. This was very fresh, with just the right amount of both. Moreover, it wasn't very filling (which I find some starters can be) thus leaving tummy space for dessert – forward thinking see…
Main course at The Grampus Inn, Lee Bay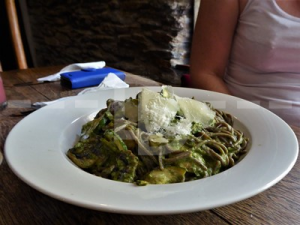 I decided on a seasonal pasta dish with courgette and hubby was tempted by the venison with red cabbage and mash (despite the warm weather!). What was brilliant about the Grampus, was not only were they very up on gluten free cooking, but the chef actually came out to me to discuss which type of gluten free pasta I would like – a choice of pasta is generally unheard of! I chose the black bean spaghetti as I had never tried it before. It was actually very nice and the dish was seasoned with the perfect amount of garlic, and pepper. It really was a very simple, but tasty, dish and cooked to perfection. The lovely chef is a very talented lady.
Hubby's venison was tender and once again cooked very well. The red cabbage had a lot to live up to as it is a staple in hubby's Hungarian family's home. It passed with flying colours though, which should not be underestimated!
Dessert at The Grampus Inn, Lee Bay
Our sensible idea of sharing a starter and a pudding paid off when I asked what gluten free puddings they had. They did an orange sponge pudding! Oh my days – a proper pudding – not just fruit! How very exciting! It was yum and yes I did finish most of it!
Opening hours: Mon-Sat, 6:00-11:00, Sun 12:00-3:00, 7:00-11:00.
Gluten free friendly: Lots of gluten free options and both the front of house and kitchen are very gluten aware.
Child friendly: Children and babies are welcome.
Disabled access: Not very wheelchair friendly.
Dog friendly: Dogs are welcome.
Please follow and like us: