On a cold and windy February Sunday, we had to drop our son off to a South West Music School workshop http://www.swms.org.uk/. We had taken a beautiful, if slow (I had broken a rib two weeks before in a fall and was feeling very pitiful and couldn't move very easily!) walk along the River Exe. Such a stunning, tranquil location, that it is hard to imagine that you are a stone's throw from the vibrant, bustling, commercial city of Exeter. We then finished our day with lunch at The Mill on the Exe.
I had already booked and explained that we would be with a dog and that I was a coeliac – no problem with either, so that was encouraging. What was really nice is that when I called to book, I asked for a table at 1pm. The lady who was dealing with my call explained that they have two sittings, one at 12 and one at two as they believe that we should allow two hours for our lunch! How very civilised and refreshing. I hate feeling rushed when I go out to eat, so was really looking forward to just relaxing and taking our time over lunch.
The pub has a huge conservatory with a big open fire pit in the centre, which I imagine is lovely in the summer. It was warm in the winter with nice views over the river, but they led us through the pub into the main building and sat us right next to a roaring wood burner.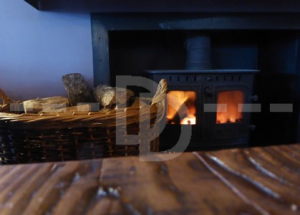 I'm not sure who was more grateful, shivering us, or our elderly dog! I made myself comfortable, well as much as I could with a broken rib, and hubby went to the bar. You have to place your food and drink order at the bar, so hubby ordered two carveries – we are creatures of habit!!! The server gave us the cards to prove we had paid and said to go down when we are ready. We must have sat there for at least another half an hour, having a quiet drink, catching up without the whine of teenagers (!) and generally just chilling. It was so lovely!
Sunday carvery at The Mill on the Exe, Exeter
My only slight criticism was that the carvery was laid out downstairs, which meant that to get your food you had to leave your table and go out of sight. As we had the dog, we thought of going one by one, but by this time the dog was well and truly snoring, so we made sure he was securely tied up and went to get our food. I wasn't 100% comfortable with leaving him, and all our stuff, though – so this is possibly something they need to think about. If there had been a big group of people, I guess one would have to stay behind and look after everything? Which would mean that they would get their food (and thus eat it) separately from the rest of their party. If our children were younger this would have been an issue as well. Having said that, there were tables downstairs, but they weren't in such a cosy environment.
Moreover, going downstairs for me was a struggle – I hadn't contemplated getting back up afterwards!
When we arrived at the serving hatch I explained to the chef that I was a coeliac. He showed me what I could and couldn't have – which to be fair, most of the food was suitable, except for the usual suspects of Yorkshire puddings, stuffing and pigs in blankets – although just a quick note for any chefs or restaurateurs – you can buy all of these trimmings ready made and suitable for coeliacs – just saying…
Unfortunately, the Yorkshire puddings were next to the roast potatoes and some inconsiderate soul had dropped one in the potatoes – contamination nightmare. I asked the chef if he had any new batches as I couldn't eat the roasties now and he very kindly got me a whole dish full of fresh ones!
The next dilemma was how to get a dish of potatoes and a full plate of Sunday roast up the stairs. A really kind waiter stepped up immediately and put my food on a tray and then proceeded to carry it upstairs for me. A little kindness, especially when you are in pain, goes such a long way and I was very touched. Hubby would of done it of course, but he was beaten to it! 🙂
As to the food, the meat was fantastic, if not a little over generous. Huge slabs of ham and beef, which took me ages to get to, were hiding under all the veg that I admittedly loaded my plate with! As to the potatoes, I felt obliged to eat as many as I could, and forced them on hubby, but we still guiltily left a couple! The quality of the food was excellent and it was all cooked to perfection – I can't manage to cook a roast dinner for four without burning or serving the veg half raw, so how these chefs manage a whole carvery is beyond me! Moreover to keep it all hot, and yet stopping it from drying out is a feat!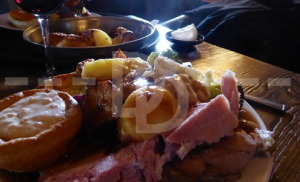 We were honestly so stuffed that we didn't even attempt dessert. There was a choice of a gluten free brownie or Eton Mess, but we were so full we literally couldn't even share one.
All in all a fantastic place to eat. Great service, really, really good food, lovely location and a good atmosphere. So nice to take our time to properly enjoy our lunch with no pressure to hurry up or to move on to the next course. Would definitely recommend.
Opening hours: The bar is open from 9am – 11pm Monday to Saturday and 9am to 10.30pm Sunday.
Food is served from 12.00 noon to 9.00pm every day..
Gluten free friendly: A very good knowledge of gluten free.
Child friendly: They have a children's menu and high chairs.
Disabled access: Worth a call in respect of the carvery as it was downstairs.
Dog friendly: Well behaved dogs are allowed on leads throughout the pub.
Please follow and like us: