After a fabulous walk, see Visit South Devon's website https://www.visitsouthdevon.co.uk/explore-south-devon/broadhembury, we settled down for a big feed in The Drewe Arms. As we entered the pub we were greeted with a welcoming hello from the lady behind the bar. The inside looked very Italian-esque, which made sense as the landlady was Italian. It had a nice feel to it and the decor was lovely. We ordered drinks – hubby had half a local ale from Otter Brewery, whilst I opted for a cranberry cider from South West Orchards. I thought it was really nice cider – not too sweet like other fruit ciders. Hubby said the ale was good too.
I had informed them of me requiring a gluten free meal when booking and so when the waitress came over to take our order, she was already up to speed with what I could and couldn't have from the menu, which was very comforting.
Starter at The Drewe Arms, Broadhembury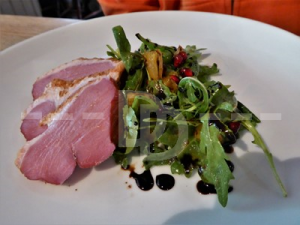 There were a reasonable amount of starters that were either actually gluten free or that could easily be adapted for me. After much pondering and deliberation, I opted for the smoked duck breast with a salad of charred peach, pomegranate, watercress and rocket. It was absolutely delicious. Hubby went for the ham hock terrine with spiced apple and pear chutney, toast and salad. He said that was really tasty too.
After those taste sensations, we were really looking forward to the main course!
Sunday roast at The Drewe Arms, Broadhembury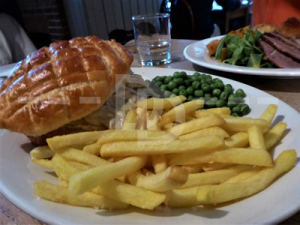 Hubby felt he deserved pie, even though the walk wasn't really that far or taxing. We did have to walk through a field of inquisitive cows, which was a little disconcerting, but other than that it was relatively sedate! The special that day was a chicken, leek and mushroom pie, which came with seasonal vegetables.
I ordered the roast lamb. Usually I don't order lamb, because I'm not that fond of it, but I thought I'd give it a go, as the starter was so well prepared. I wasn't disappointed – it was such nice, tender meat. I asked for it to be well done – yes I know that lamb should be served pink, but that's not how I like it cooked. The greens served with it were spot on too.
Dessert at The Drewe Arms, Broadhembury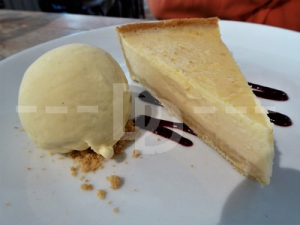 Even though I was very full, when the waitress came around and asked us whether we wanted dessert, I had to admit I was a bit tempted. Sadly the only dessert suitable for me was fruit or ice cream and so I declined. Hubby, as ever, is a Trojan, and asked for the lemon tart. I have to say it did look delicious and he assured me it tasted it too!
What a great find. A fab walk, followed by a very nice meal. I would definitely recommend both!
Opening hours: 12noon-2.45pm / 6-8.45pm Tuesday to Saturday
(currently no food on Mondays)
12noon-2.45pm Sunday
Gluten free friendly: A very good knowledge of gluten free.
Child friendly: They have a young person's menu and high chairs.
Disabled access: Access to the bar was okay. There was a step down to the toilets, and I'm not sure there is a toilet specifically for disabled use.
Dog friendly: Well behaved dogs are allowed on leads throughout the pub.
Please follow and like us: