As it wasn't a nice day when we visited Black Dog, our proposed long hike turned into a very short walk around the village to give the dog a little exercise before we headed into the Black Dog Inn.
The pub is a typical, quirky British pub, with dark wood, a massive fire (which I imagine is roaring in the cold, damp, winter months) and loads of knick-knacks everywhere, including hundreds of tea cups hanging from hooks screwed into the ceiling. It was a little bit scary, when my very tall hubby stood – I had visions of crashing china, but fortunately the ceiling was high!
Sunday carvery at The Black Dog Inn, Crediton
I had heard that the The Black Dog Inn specialised in gluten free food from a FaceBook group, so I had to give it a try. The owners' daughter had been recently diagnosed as having coeliac disease and so they decided to change almost all of the carvery to gluten free (including the Yorkshire puddings!). As always I gave advance notice of me requiring a gluten free diet, which paid off, because they made me special gluten free stuffing too!
The food was very well cooked and hearty. We had more than our fair share of good, local meat and a variety of fresh vegetables. The veg was a little overcooked for my liking, but hubby really enjoyed it, including a dish of broad beans and bacon in a cheese sauce. Sadly, I have been turned off broad beans for life by my nan who used to serve them cooked in milk! Bleurgh!
Dessert at The Black Dog Inn, Crediton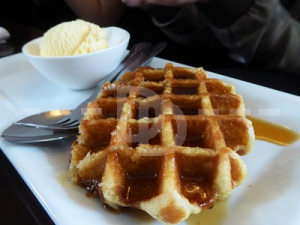 In typical teenage style, my daughter and her friend had already reviewed the dessert menu prior to getting their lunch and so they ate the minimal amount of carvery, in order to squeeze dessert in! Both were uber-excited about waffles with chocolate sauce and ice cream.
Although I was officially stuffed, it would have been really rude not to try one of the many gluten free desserts on offer, so hubby and I opted to share a treacle sponge pudding and custard. It was delish. Really light and fluffy.
I would definitely recommend The Black Dog Inn. It is a little out of the way, but a gem in the mid-Devon countryside.
Opening hours: Mon-Sat, 6:00-11:00, Sun 12:00-3:00, 7:00-11:00.
Gluten free friendly: Lots of gluten free options and both the front of house and kitchen are very gluten aware.
Child friendly: Children and babies are welcome.
Disabled access: There is wheelchair access.
Dog friendly: Dogs are welcome.
Please follow and like us: