Tapas in Barnstaple
If you are looking for a good place to eat in central Barnstaple, right by the Clock Tower is Lilico's. It is a Tapas bar, and although it has many seats, it has a warm, welcoming feel to it.
When you enter Lilico's you are greeted by a huge long bar, with friendly staff. There is a massive choice of drinks and as it was a hot sunny day, cider was definitely the order of the day. Lilico's stocks The Old Mout fruit ciders, which I am quite partial to! It was served in a tall glass over ice, with fresh raspberries and cherries in it, which I thought was a lovely touch. Although the weather was great, we declined to eat outside at one of the many al-fresco tables, but chose a bright, sunny spot by a huge window instead.
Starters at Lilico's
What to order…we had eaten in there before, so I knew there was a gluten free menu. The waiter came over and we discussed not only the dishes on the gluten free menu, but also what the chef could adapt for me on the main menu. We were not disappointed at all. Hubby fancied the Mussels to start. As I am mildly allergic to molluscs (I come out in a very fetching and attractive red rash!), I declined a starter and was happy to wait for the vast selection we ordered for main course – well it is Tapas!
Tapas for main course at Lilico's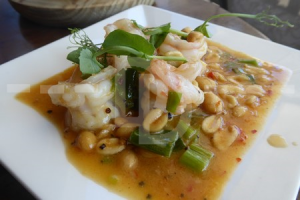 What I love about Tapas is the variety. Lots of little dishes, each bursting with flavour. As well as ordering the Chicken and Chorizo paella (pictured above) we thought we would try the King prawn with chilli nuts and honey. This was smashing! The taste of the nuts was sweet and spicy, with meaty King prawns that were cooked to perfection.
We also tried some Cajun chicken breast with lime and coriander (my two favourite fresh flavours) with a mustard mayonaise. As you can see from the picture it looked divine – and tasted just as good.
Hubby really wanted to try the Meatballs. These are made with rolled pork and beef, served in Lilicos' home made tomato sauce and topped with cheese. They were really meaty and would be lovely as a topping for any pasta! Sadly the sweet potato fries in the picture weren't gluten free as there wasn't a separate fryer for them, but hubby said they were delicious.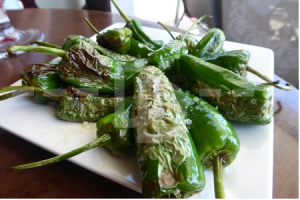 My favourite dish of the day, though, was the Padron peppers. Such a simple dish, and yet it was amazing – so much so, I replicate it at home! It's griddled peppers (or fried if like me you don't have a griddle), with rock salt and olive oil. The peppers were just charred enough so that they were still crunchy. It really was a nice complement to the other dishes.
As you can imagine, after all that we were royally stuffed. Such amazing food and very highly recommended.
Opening hours: 9:00am to 11:pm Monday to Thursday / 9:00am to 12am Friday to Saturday
Gluten free friendly: A very good knowledge of gluten free with a gluten free menu
Child friendly: In the day child friendly. After 9pm no children allowed.
Disabled access: Access to the bar was okay.
Dog friendly: No dogs.
Please follow and like us: