Unfortunately for us, when we decided to go for a walk and something to eat in Upottery, it was a grim, rainy, spring day. However, we are Trojans and braved the soggy weather.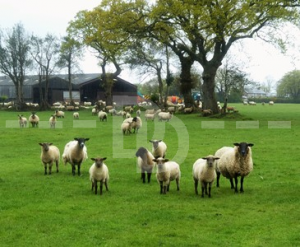 I'm so glad we did, because despite the wet, some of the views were still stunning and the walk itself was very nice. As it was early spring we were greeted, in various fields, by adorable young lambs and carpets of bluebells.
Upottery village
Upottery itself is a small village in East Devon.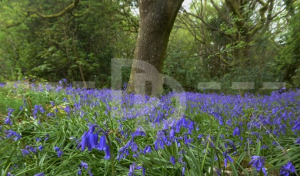 It sits in the valley of the river Otter, hence its name. It lies in an area of outstanding natural beauty – the Devon/Somerset Blackdown Hills. The village itself is very pretty. It has a pub, school and church that is usual for a small, rural, English village.
According to an article in Britain Express Upottery was mentioned in the "… Domesday Book, but even before then it was part of a grant from Edward the Confessor to the Dean and Chapter of Rouen."
RAF Upottery
Quite near to the village is a disused World War II airfield. It was the last of three war time airfields to be built on the Blackdown Hills and was used as part of the preparations for the invasion of Normandy on D-Day. There's more information on it at the South West airfields page: http://www.southwestairfields.co.uk/?page_id=46.
Close by is a Visitors' Centre, called the WW2 Nissen Hut and Upottery Heritage Centre. It has lots of memorabilia from the war, including unique photographs.
Places to eat in Upottery, Devon
Of course Upottery has a great village pub called The Sidmouth Arms, so half way through our walk, we stopped for Sunday lunch.
Click on the link to read my review of The Sidmouth Arms, Upottery