Exebridge, Devon, is a tiny village positioned where the River Barle joins the River Exe. The river bridge in Exebridge literally marks the border between Somerset and Devon. It is a very quiet little place just outside of Exmoor National Park on the South East tip.
The views of the surrounding countryside are stunning and there are probably a lot of very good local walks, however the day we visited Exebridge, it was a cold, drizzly, murky, February day and so we decided just a short walk along the river bank would suffice, so we could get into the pub asap! Having said that, because of the time of year, there were beautiful snowdrops in abundance.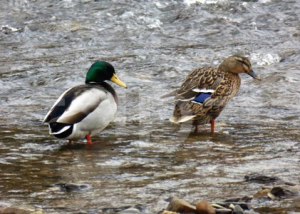 I imagine if we had left it a few more weeks, there would have been so many more spring flowers, but the contrast of the snowdrops against the winter gloom was stunning.
Places to eat in Exebridge, Devon
Right by the bridge and nestled on the river was The Anchor Inn, a family run pub with a warm, welcoming atmosphere. Click on the link to read my review of The Anchor Inn, Exebridge.